Additional Factors
This is the section of the description where you will make note of the postal history of the cover that does not fit into franking-date-origin-type of mail service-destination. Most commonly, you will describe auxiliary markings. Auxiliary markings are described with a physical description of the mark, straight line, circle, color of marking etc. and a transcription of the marking.
This part of the description can be handled in two ways. It can be appended after the destination with the word 'with' or it can be a separate phrase starting with a capital letter after leaving two spaces from the destination. The rule is that when you are simply describing and transcribing a marking, it should follow the the destination after the word 'with'. When you explain the reason for the marking, or there is some other type of additional postal history to describe, leave two spaces after the destination and begin the phrase with a capital letter. The objective is not to be begin a phrase with a descriptive word.

4d Koala (2) 1956 Sydney, N.S.W. Aust. Airmail to Auckland, New Zealand with red boxed sl Not Known, Unfound and red boxed sl Please advise sender of your correct address.
The markings here speak for themselves. There isn't a need for an explanation, so just append the phrase after the destination with the word 'with'. You can note as many markings as need by separating them with commas and the word 'and'.
Delivery Notice marking, often seen on more recent U.S. registered and certified mail, are not important and should not be described.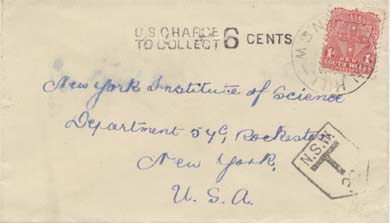 New South Wales 1d Seal c1907 Broken Hill, N.S.W. to New York, N.Y. Shortpaid so rated N.S.W. T 3c in shield and sl U.S. Charge To Collect 6 Cents.
In this case, it is best to include a reason for the markings. So here, after the destination include a period, leave two spaces and start the phrase with a capital letter.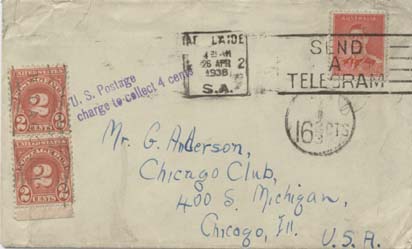 2d KGV 1938 Adelaide, S.A. Send A Telegram Slogan to Chicago, Ill. Shortpaid so rated circle T 16 2/3 Cts, violet sl U.S. Postage Charge To Collect 4 Cents. U.S. 2c Postage Due (2) added. Edge wear.
Postage due marking are always best described in a new phrase starting with the reason for the postage due. This is most commonly shortpaid - not enough postage, overweight - enough postage for a single weight, too little for the actual weight of the cover and franking not recognized - most often a stamp from another country used. Describe the addition of postage due stamps in a new phrase.
Common descriptive terms for markings are sl for straight line, circled, cds for circular date stamp, hs for handstamp, boxed, in arc, and the color of the marking. Markings are always assumed to be in black, so this is never noted unless it is necessary to note the color in comparison to another marking in a different color. A hs (handstamp) describes up to five characters. Anything longer is a sl (straight line).
Only a very limited number of abbreviations are used. Most of them are noted above. The only reason these are used is that their full name is so long they would overwhelm what is being described.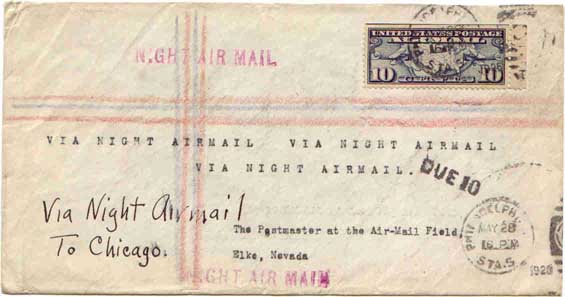 10c Map 1926 Philadelphia, Pa., Sta. S Airmail to Elko, Nev. with violet sl Night Air Mail. Overweight so rated sl Due 10. MONARCH SIZE
It is acceptable to have more than one phrase to describe other postal history factors. Please note the first phrase is subordinate. End the phrase with a period. The second phrase includes an explanation so it begins with a capital letter. Have a double space before the new phrase.