Beyond Postal History
Postal history involves the postal service, the franking, rates, routing and markings on a cover. There are parts of a cover, not involving the postal service, which require description. These include illustrations of various sorts, such as advertising, patriotic designs, collector created cachets and hand drawn illustration. Also included are markings applied by other government agencies, like official cachets and censor marking. Sometimes these will be markings applied by senders or recipients. It images also apply to contents.
This section should always be in a new phrase, capitalized and two spaces after the preceding part of the description.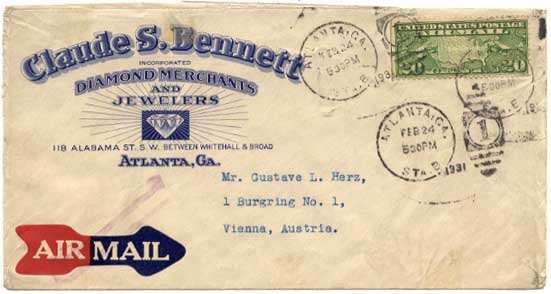 20c Map 1931 Atlanta, Ga. Double Airmail (5c + 3c Surface to Europe + 4c + 8c Overseas Airmail Surcharge) to Vienna, Austria. Illustrated advertising Claude S. Bennett Diamond Merchants. MONARCH SIZE
Most of the time, Other Non Postal History Factors will describe advertising and corner cards.
You describe advertising or corner cards by transcribing the wording printed on the cover. If the wording does not fully describe the illustration describing the nature of the illustration following the word showing.
Do not transcribe any part of the address portion of the wording unless the city in the wording is different than the city in the origin cancel. So if there is a hotel corner card from the U.S. Grant Hotel in San Diego on a cover postmarked in Los Angeles, you would include San Diego, Cal. in the transcription. Never use any street address in any circumstance.
Advertising is used to describe an area of one sixth of the cover or more.
Use corner card to describe an area up to one sixth the area of a cover.
A corner card is assumed to be printed. Printed does not need to be noted. Please note if it is illustrated.

Always note whether advertising is illustrated or printed.

You will occasionally see "quotation marks" in the word on advertising covers that need be transcribed. Change the "quotation marks" to 'apostrophes'. Never use "quotation marks" any place in a description for any reason. Quotation marks are used to send information between computer programs and will cause unexpected results. Click
here
for more on advertising covers and corner cards.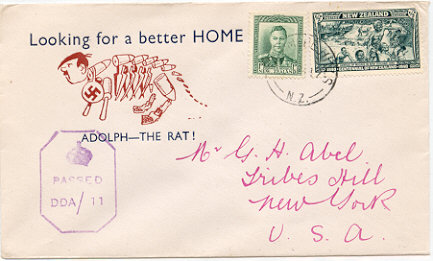 1/2d Landing of the Maoris in 1350 and 1d KGVI 1942 Cashmere Hills, N. Z. to Tribes Hill, N. Y. New Zealand Censor. Looking for a better Home Adolph the Rat! Patriotic.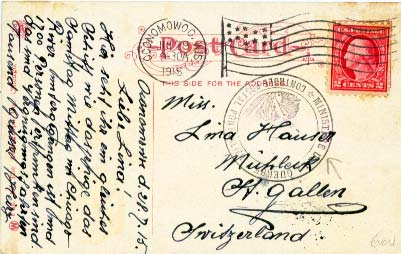 2c Washington Franklin 1915 Oconomowoc, Wis. PPC to St. Gallen, Switzerland. France Censor.
Describe censors only with the name of the city and country of the censor. You will always be told this. Mostly, only the country will be given. Sometimes, the country is not clear, so you images only use the word Censor. Always use the noun form of a country name - France, Germany or Switzerland, never the adjective form - French, German or Swiss.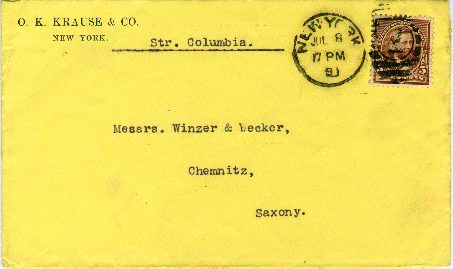 5c Grant Small Banknote 1891 New York to Chemnitz, Germany. Inscribed Str. Coumbia.
Senders and receivers write many things on covers. Some of these are significant and bear description, many are not. In general, an inscription is significant when it is the name of a vessel or airline, a routing that has rate significance or is somehow unusual, or noting a language on a censored cover that images not be expected by the origin or destination. Things like in haste, by first steamer and by fastest route add no useful information and should not be described. You will be given guidance.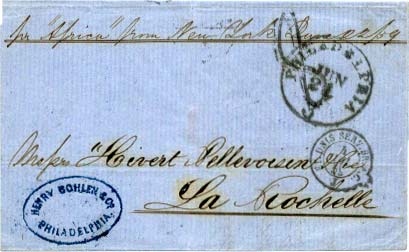 Philadelphia, 3 1859 serifed cds with hs 8 and Et. Unis Serv. Br. A.C.3 serifed cds double ring cds on SFL via French Convention Mails to La Rochelle, France. Inscribed pr 'Africa'.
Please note that although the cover reads pr "Africa", you must change this to pr 'Africa'. Never use "quotation marks" any place in a description for any reason. Quotation marks are used to send information between computer program and will cause unexpected results
Always end the section with a period.