Type of Mail Service
Describing the type of mail service is generally without peril. There are two factors to consider. First is identifying the mail service. Most of the time, this is clearly noted by the marking on the cover. Sometimes this may not be evident, so you often receive notes to help identification. You will be always given rate explanations. The second factor is the format. Please note the capitalization. Rate explanations are in parentheses.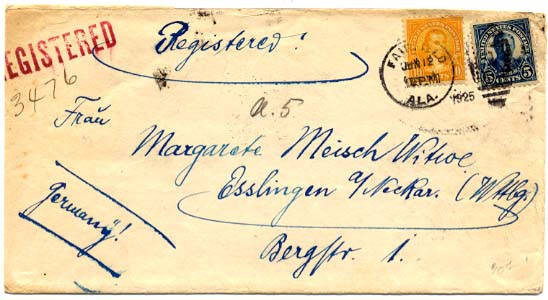 5c Roosevelt and 10c Monroe Fourth Bureau 1925 Fairfield, Ala. Registered to Esslingen, Germany. MONARCH SIZE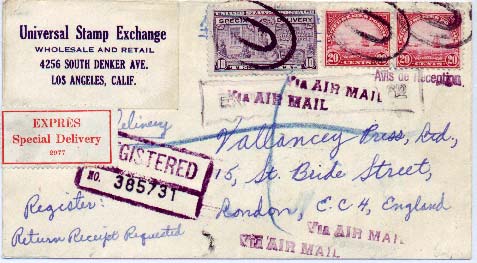 20c Golden Gate Fourth Bureau (2) and 10c Motorcycle Messenger Special Delivery 1932 Los Angeles, Calif. Registered Return receipt Airmail Special Delivery to London, England.
If a word in the cancel, such as Registered also describes the type of mail service, it does not need to be repeated.
The word Express or Expres designates Special Delivery.
2c Washington (2) and 10c Monroe (2) Fourth Bureau 1924 Colorado Springs, Colo. Airmail (8c x 3 zones Government Route) to Brooklyn, N.Y. Illustrated Advertising The Joyce Hotel.
A rate explanation goes in parenthesis after the type of mail service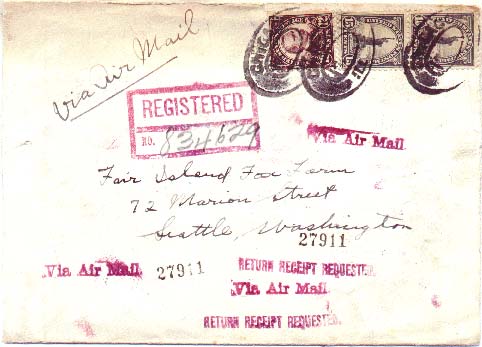 12c Cleveland and 15c Statue of Liberty (2) Fourth Bureau 1924 Chicago, Ill. Reg. Div. Registered Return receipt Double Airmail (16c - 8c x 2 zones) to Seattle, Wash. EUROPEAN SIZE
1/2c Hale (4) and 10c Monroe Fourth Bureau 1925 Detroit, Mich. Registered Treaty Rate to Wincanton, England.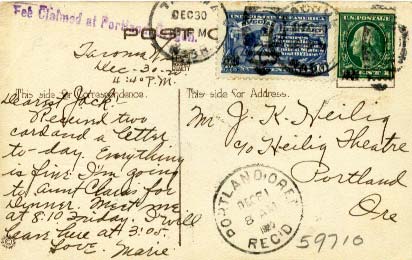 1c Washington Franklin with 10c Bicycle Messenger Special Delivery 1910 Tacoma, Wash. Special Delivery PPC to Portland, Oreg.
Covers receiving special delivery service in the U.S. almost invariably have Fee Claimed markings. Since these are ubiquitous, they are not to be noted unless there is something unusual.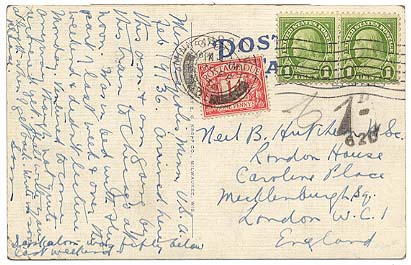 1c Franklin Fourth Bureau (2) 1936 Minneapolis, Minn. PPC (Hiawatha 'First of Speed Liner" The Milwaukee Road) to London. Shortpaid so rated 1d and Great Britain 1d Postage Due added.
It is VITAL to differentiate between post cards and postal cards. A postal card has an imprinted value. A post card does not. Postal cards are to be described with the franking. If the post card has a picture, it is to be described as a PPC. If there is no picture, the post card is to be described as Postcard.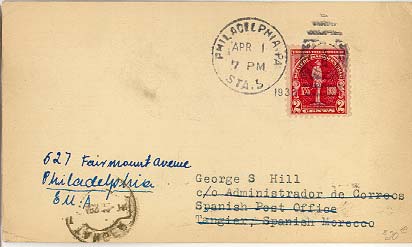 2c Battle of Braddock's Field 1932 Philadelphia, Pa. Sta. S Postcard to Tangier, Spanish Morocco. Returned.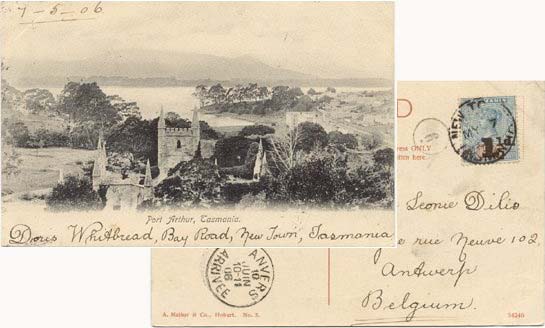 Tasmania 5d QV Overpirnted 1 1/2d 1906 New Town, Tasmania PPC (Port Arthur) to Antwerp, Belgium.
If the view is worth describing, it is described in the form PPC (Description of View). It is best to transcribe the printed description on the card. You don't need words that are assumed by other parts of the description, like a county name. If the printed description does not properly describe the view, add a few words describing it after the transcription and the word showing. If there is nothing printed, add a few words describing the view.
Deciding whether to describe the view side of a PPC is a judgment call. Never describe a greeting. Describe views of man made objects - things like buildings and street scenes. Do not describe empty views - mountains, fields, lakes, etc. Do not describe misplaced views - A view of New York City on a card mailed from Egypt. You will be given guidance as to whether the view side is significant. Real Photo cards, cards which are photographs printed on photographic paper are considered significant. They should be described in the format PPC (Real Photo Description of View)