Origin
This is seemingly the second easiest part of the description process, yet it accounts for more errors than any other part of the process. The goal is simple. Transcribe the wording in the cancel in a readable fashion. Making the transcription readable is the hard part. First problem is that most cancels have only capital letters. Capital letters are hard to read, so the cancel needs to be in title case. Title case has the first letter of each word capitalized with the balance of the letters of each word in lower case.
The most important part of the transcription is the city name. While every effort should be made to include all the words in the cancel, concentrate on the getting the town correct. This is especially important with things like spacing. Make sure to differentiate if a city name is Barre Forge or Barreforge. However, it is not important to differentiate spacing on a part of a cancel that may appear to read CityHallSta.Registered. For the purposes of readability, it should be transcribed as City Hall Sta. Registered.
Other pitfalls are machine numbers and index marks. These provide no useful information and are not to be transcribed. The problem is differentiating a machine number or index mark from a station designation or other useful part of a cancel. While some guidance is given, only experience will identify these. Until the experience is developed, ASK.
The final problem is the exceptions. In the U.S., at about the time of the start of the Postal Service in 1971, states were given standardized two letter abbreviations. These are always two capital letters.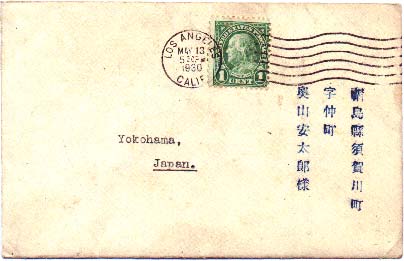 1c Franklin Fourth Bureau 1930 Los Angeles, Calif. Printed matter to Yokohama, Japan.
Here you type what is in the origin cancel.
Even though most cancels are in all capital letters, use title case.
Title case has the first letter of each word capitalized with the balance of the letters of the word in lower case.
When the cancel is in the distinct form of Top of Cancel - Bottom of Cancel, use a comma between the two.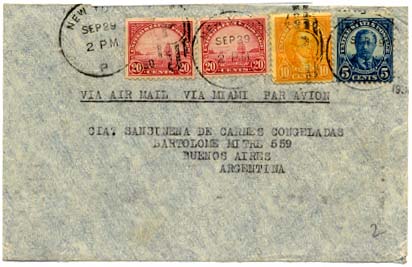 5c Roosevelt, 10c Monroe and 20c Golden Gate (2) Fourth Bureau 1930 New York P Airmail to Buenos Aires, Argentina.
Do not add to cancels. The cover above does not read New York, N.Y. P, but New York P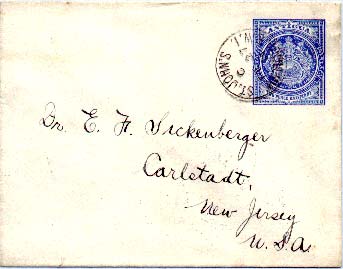 2 1/2d Seal of the Colony envelope 1911 St. John's, Antigua B.W.I. to Carlstadt, N.J.
Include all the words in the cancel.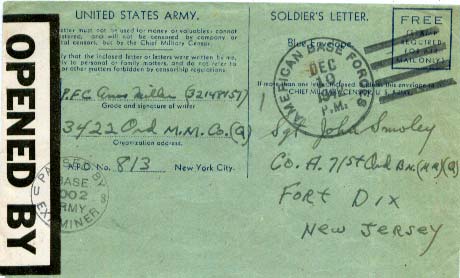 Soldier's Free Mail 1942 American Base Forces [813] Belfast, Northern Ireland to Fort Dix, N.J. United States Army Honor Envelope. Army Base Censor.
When describing military covers with numbered post offices, note the location of the post office immediately after inscribing the wording. You will always be given this information. U.S. A.P.O. cancels sometime do not have a number in the cancel, but the number is inferred by the return address. In this case put [brackets] around the number. U.S. Navy cancels almost never have a number or identifier in the cancel. Since their identity is always inferred by the return address, do not use brackets.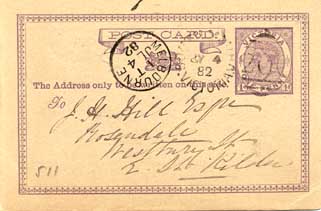 Victoria 1d QV Postal Card 1882 South Yarram, Victoria 200 duplex to E. St. Kilda.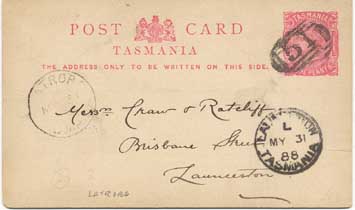 Tasmania 1d QV Postal Card 1888 Latrobe, Tasmania 51 in grid to Launceston.
Most cancel are in two parts, the postmark showing the date and place of mailing and the killer used to cancel the stamp. Some killers have numbers which relate to the post office. These are important and need to be described. Always differentiate duplex markings, which have the postmark and killer as part of one device and markings in two parts, one a postmark and one the killer. Note the format - 200 duplex or 51 in grid.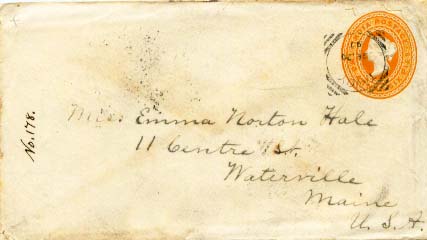 India 2 1/2A QV Envelope 1897 Tavoy squared circle to Waterville, Maine.
Squared circle cancels are considered important and should be noted.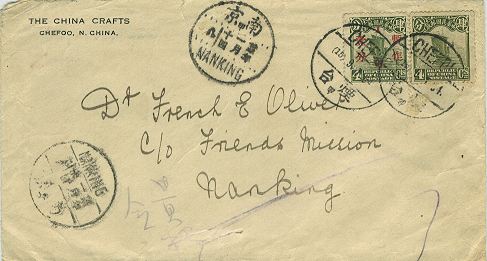 4c Junk Overprinted 1 and 4c Junk 1934 Chefoo to Nanking. Corner card The China Crafts, Chefoo.
If part of the cancel is in a non roman alphabet, transcribe only the part in roman letters.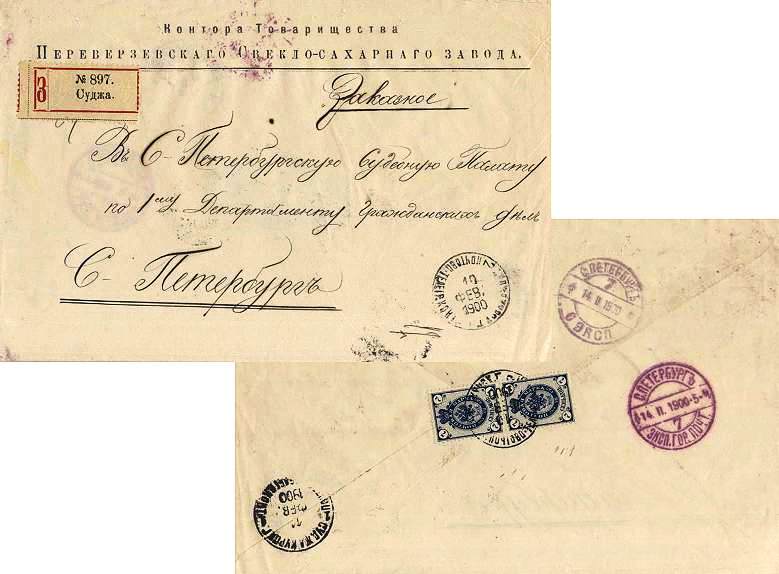 7k Imperial Eagle with Posthorns and Thunderbolts (2) 1900 Sudzha Registered to St. Petersburg. Reverse franked.. EUROPEAN SIZE
If the cancel is in Cyrillic or Greek, transliterate the name of the town only.
It can be difficult reading some cancels. There are a number of online resources which list towns and post offices. This can be very helpful. Remember, it is a post office name in a cancel, not a town name, so use a post office resource if it is available.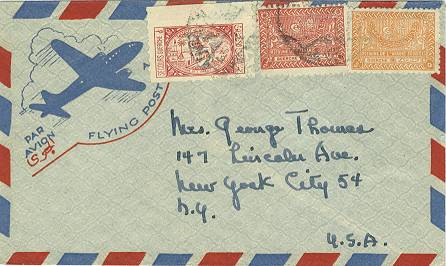 5g and 1/2g Tughra of King Abdul Aziz with 1/8g Postal Tax c1950 Airmail to New York, N.Y. Cancel unreadable.
Some times, the cancel is simply beyond deciphering. Skip the town name and describe the cover as Cancel unreadable in the condition notes section.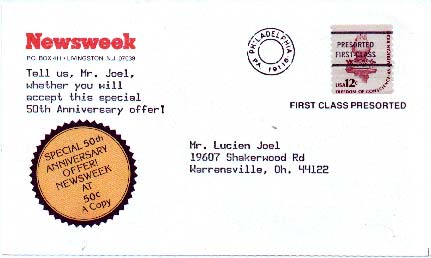 12c American c1980 [Philadelphia, Penn.] Presorted First Class Precancel Postcard to Warrensville, Ohio.
If there is no town cancel by design, but the origin can be determined by other factors, use the town you can find surrounded by brackets.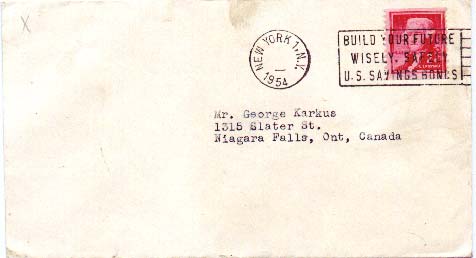 2c Jefferson Coil 1954 Liberty 1954 New York, N.Y. Printed matter to Niagara Falls, Ont. Canada.
The 1 in the cancel between New York and N.Y. is a machine number. It should not be transcribed.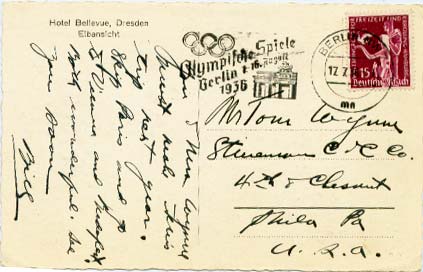 15pf Vacation Congress 1936 Berlin NW 7 Olympische Spiel Berlin 1.-16. August 1936 Illustrated Slogan PPC to Philadelphia, Penn.
The mn at the bottom of the cancel is an index mark. It should not be transcribed. Please also note how to handle illustrated slogan cancels.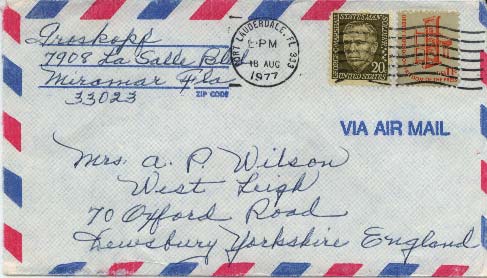 11c Americana and 20c Marshall Prominent Americans 1977 Fort Lauderdale, FL 333 Airmail to Dewsbury, England.
Please note that this is in the period of standard two letter U.S. state abbreviations. This is an exception where you would transcribe all capital letters.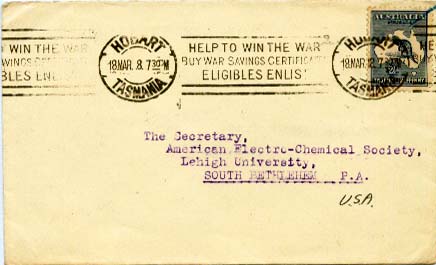 2 1/2d Kangaroo 1918 Hobart, Tasmania Help To Win The War Buy War Savings Certificates Eligibles Enlist Slogan to South Bethlehem, Pa.
Please also note how to handle slogan cancels.
Do not transcribe a period comma [.,] Just pick the most appropriate.